Improve your IT. Improve your Business.
cyberMIND is an office information technology solution provider which provides technical support, managed IT services, ala-carte and network services to small and mid-sized businesses. We work with companies in both un-regulated and regulated environments.
cyberMIND offers a full range of programs and services for your information technology needs.
Information Technology Consulting: Knowledge of your office technology is crucial to your continued success.

Managed Information Technology Solutions: cyberMIND's Managed Office Technology Services provide a single point of contact for all Office Technology and Internet Technology ensures technology efficiency and effectiveness and provides business intelligence

Information Technology and Business Assessment: We look at what you have, the state of your IT, your workflow and business objectives and provide you with an action plan.

Network and Mobile Computing Technology and our ability to harness its benefits to improve your organization's productivity has certainly come a long way. High-Speed, secure networking has evolved beyond the Local Area Network to Wide Area Networks, the Internet, Smartphones, PDA's, and beyond.

Disaster Recovery and Business Continuity Planning Statistics show that on average, over 40% of businesses that do not have a Disaster Recovery Plan go out of business after a major loss like a fire, a break-in, a storm, or sabotage.

Information Technology Training: Our trainers pride themselves on their vast knowledge and easy to comprehend teaching skills.

Web Application and Database Development Let us maximize your web presence and drive revenue to your business and streamline your workflow and cut costs.

Technology Integration: Make the most of your office technology, make it work together.

Broadband Services We now have many options for how to connect to the Internet. Wired or Wireless - T1, DSL or Cable service.

Custom Software Services: When needed, software can be created, tailored to your work process.

Improved Office Work Flow: Implement state-of-the-art work processing technology.

Complete Office Solutions: A well blended mixture of the above services, tailored to your business needs and goals.

Internet Technology Services: Improve your communication, sales and more using the Internet.

Web Solutions: From marketing to business process automation, the Web has a lot to offer.

Contact Us
For general information, please send e-mail to or phone us at 877/269.373.6680. Click here for additional contact information and directions.
Let us go to work for you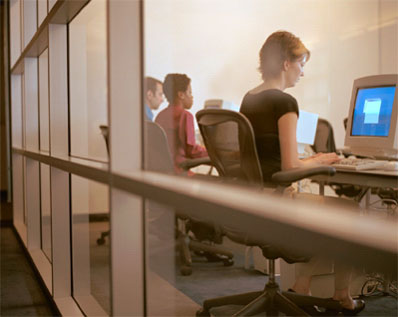 Engagement
First, we would like to meet with you. We prefer to come to your site and take a look around, see how you are currently using technology, talk with you and your staff and discover your goals and ways of doing business.
Our team will then brainstorm your current operations and situation. We will do research into how your business is operating and evaluate tools designed to help you succeed. Essentially, we will put together a firm plan for your business's technological success.
Next we would like to give you a proposal. This proposal will incorporate your ideas and ours. This proposal will serve as a blueprint for the technology we would like to enhance or implement. It will not seek to change your business, simply enhance it by implementing improved, more efficient technological solutions.
If you decide that cyberMIND is the company to provide your solutions, we will proceed with you to implement the solution.
When we have completed the initial project, we will work out a plan to further support you and your company. You will be presented with a cyberMIND membership packet that contains all of the information you need to carry out your technology.
We never leave our customers, once our proposed project is implemented we stay by your side, helping you use your technology and suggesting ways that you can improve.
If you would like to set up an appointment you may contact A Team Account Manager at 877.373.6680 or .